Site Rules
We appreciate your adherence to these few rules. Please respect the land and leave it better than you found it.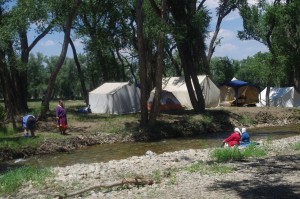 Upon arriving, stop at the Gate to begin check in. Help is available to find your campsite or camping group. If you are pre-registered and come on site before Tuesday for set-up, you must check in with gate Tuesday morning.
You MAY NOT step on the hay being grown. Stay away from all irrigation equipment. The ONLY exception is the archery field. You may WALK on that.
Respect property boundaries; do not cross fences. We have plenty of room here!
Please unload as quickly as possible, off the roads, and then immediately move your vehicle to the parking lots. All vehicles should display a parking sheet on the dashboard and be parked in appropriate areas. The dashboard parking sheet is so we can contact you if there are any problems.
No Cutting Trees or Limbs! If you have a tree or limbs in your encampment that you feel poses a danger let the Autocrats know and we will take care of it.
No making paths from rocks. They become a tripping hazard for other events held at this site.
Regardless of Colorado's laws on marijuana, SCA policy still prohibits marijuana use at events. In Colorado you must be 21 to consume alcohol. This will be enforced without exception.
Pets are allowed on site as long as they are properly leashed at all times. Clean up after your animals appropriately! Pets are welcome in camps as long as they're under control. If your pets are making enough noise that there are complaints, you may move to a campsite without neighbors or take them to a kennel in town. Vaccination records may be asked for.
Do not leave children unattended near the stream or pond. These present a fascination and a danger to children. Even in summer there can be rains and snow melts that flood the small stream. Minors must be under the supervision of their guardians at all times.
Do not dump anything into the stream, or pond. The stream and pond are not potable for people.
Generator and motor quiet time will begin at 10:00 PM and end at 7:00 AM each day. Anything that can be heard in court will need to be turned off during court.
Fire Information and Rules:
Subject to fire restrictions at the time of the event, there will be a fire each night in Town Hall.
In camps, only propane stoves, lanterns, etc. that have on–off switches are allowed, and must be attended at all times.

A fire extinguisher must be available

at each camp using such a device.
Look for posted fire warnings and observe them. Local Fire Restrictions are subject to change at any time prior to or during the event.
While smoking is permitted, DO NOT THROW CIGARETTE BUTTS ON THE GROUND. Anyone caught doing so may be asked to leave the site.
No smoking within Town Hall pavilions – please treat these structures as you would a building and step outside these enclosures in consideration for fellow attendees and tent safety.
Please bring your own water supply. As a supplement, potable (drinkable) water is available on site in the water buffaloes. It is important to remain hydrated, so please use what you need, but be not wasteful. When filling your personal containers, please make sure that the water spigot is closed after use and the hose is not left on the ground. We will have hydration stations (5-gallon jugs w/ covers) all around, not just at the fighting field, ALL guests are welcome to partake of this water.
Electricity is for Staff and official use only. If you need to charge a medical device, please talk to the event stewards.
The island, vehicles, houses, trailers and any buildings or structures are the Private Property of the Site Owner. Tampering, entering, defacing or disrespectful acts will not be tolerated.
When you leave:
Fill in any 'sump holes' dug for grey water. Fill any tent pole or other holes before you leave.
Clear your site of trash/debris large and small.
Please take your trash to the dumpsters provided. There are large dumpsters available by the main gate on the way out of site.
Drive slowly on the dirt roads.
May you have safe travels home. We look forward to seeing you next year!